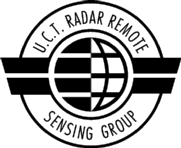 Welcome to the
Radar Remote Sensing Group
University of Cape Town

1988 - 2013
25 Years of Remote Sensing in Africa!
The RRSG was founded in 1988 and seeks to empower scientists and engineers in any field
that can benefit from research and training in remote sensing technology.
Introduction

Members

Projects

Theses
International Radar Masters Programme

Interested in becomming an expert in rada? The UCT/CSIR Taught Masters programmes in
Radar and Electronic Defence is available at UCT. To find out more please view the
programme information at the course website: RadarMasters web site.

High-performance Signal and Data Processing Workshop
27-31 Jan 2014
The next South African High-performance Signal and Data Processing workshop will take
place between 27-31st January 2014 at the University of the Witwatersrand in Johannesburg
in South Africa. Attendence is free but you need to register. We encourage all our students
and prospective postgrads interested in joining the group to consider attending this workshop.
Find out more from the HPSPSA website.
Internal links
International links
RRSG Technology Partners (SA)
RRSG Technology Partners (Overseas)
Miscellaneous
Contact Details



Prof. Mike Inggs
Department of Electrical Engineering
University of Cape Town
University Private Bag
Rondebosch 7701
South Africa

Telephone: (+27 21) 650 2799
Facsimile: (+27 21) 650 3465 (International)
Fax-to-Email: 086 616 7400 (Local)
Email: michael.inggsuct.ac.za
This page was last updated in June 2013